Welcome to the live blog for the third day of event finals at the 2018 Youth Olympic Games, held in Buenos Aires, Argentina.
Please refresh your browser every few minutes to see the most recent updates, which will appear at the top of the page.
7:59 pm. High Bar Standings
1. Takeru Kitazono, Japan, 13.566
2. Diogo Soares, Brazil, 13.266
3. Krisztian Balazs, Hungary, 13.233
4. Brandon Briones, United States, 13.133
5. Lay Giannini, Italy, 12.800
6. Vlada Rakovic, Serbia, 12.691
7. Olegs Ivanovs, Latvia, 11.525
8. Felix Dolci, Canada, 11.300
7:55 pm. Olegs Ivanovs HB: I love when Latvian names just sound like they're plurals. Yamawaki, layout Tkachev, misses the bar. And the crowd cheers because they know Takeru has the gold which is low key rude. Not that this kid was gonna beat him anyway. Okay now they're cheering when he gets back up so that's nice. Straddle Tkachev, stalder, blind change to front giant in L grip to stoop through to another L grip giant, back to regular grip for the giants into the full-twisting double layout dismount.
7:52 pm. Takeru Kitazono HB: Yamawaki, stalder, front giant then a half to get him going backwards again, layout Tkachev, straddle Tkachev, literally everyone has the same routine. German giants! Double double layout with a step. Fab.
13.566 (5.0 D, 8.566 E)
7:49 pm. Diogo Soares HB: Crazy one-armed pirouette, a little messy but everyone's like AHHHHH!!! in the crowd LOL. Bless. Layout Tkachev, straddle Tkachev, one-armed swing, stalder, double double layout with a hop.
13.266 (4.8 D, 8.466 E)
7:47 pm. Felix Dolci HB: Yamawaki, high Kovacs, caught it too far forward on his hands and he goes over and swings the wrong way, L grip full is very crooked, Endo, full-twisting double layout with windmill arms and a hop.
11.300 (4.3 D, 7.000 E)
7:41 pm. Brandon Briones HB: Yamawaki, Stalder out of it into his front giant stuff, stoop half to change direction, layout Tkachev, straddle Tkachev, stalder, hop full almost right on the bar! Stuck full-twisting double layout with some arm windmills.
13.133 (4.6 D, 8.533 E)
7:39 pm. Vlada Rakovic HB: Big Yamawaki, stalder half out of it to change direction, big straddle Tkachev, stalder, good front giants, another floaty full-twisting double layout, just a little tentative on the landing with a couple steps. Go Serbia!
12.691 (4.0 D, 8.691 E)
7:36 pm. Krisztian Balazs HB: Lovely layout Tkachev! Straddle is equally great, he gets huge height, hop full, Rybalko, L grip giants, stalder, floaty stuck double layout full. CAN I USE THAT TYRA GIF AGAIN???? Also this kid is phenomenal in general, I love him.
13.233 (4.4 D, 8.833 E)
7:33 pm. Lay Giannini HB: Yamawaki, Kolman caught with bent arms, Kovacs is EXCELLENT, so floaty!! Straddle Tkachev, full pirouette, blind change to front giant to stoop into his L grip giants, floaty full-in double layout, step forward. That was very nice.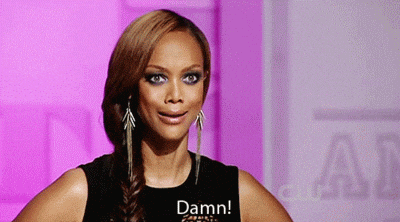 12.800 (4.8 D, 8.000 E)
7:29 pm. So, Sergei Naidin is out of the final with his weird hip injury, but they don't need to bring a reserve in because they already brought the reserve in when Sergei accidentally filled out withdrawal forms instead of registration forms in the first place. He is truly doing everything in his power to destroy order. #anarchy
7:26 pm. Floor Exercise Standings
1. Giorgia Villa, Italy, 13.300
2. Amelie Morgan, Great Britain, 13.233
3. Anastasiia Bachynska, Ukraine, 13.166
4. Tang Xijing, China, 12.966
5. Emma Spence, Canada, 12.400
6. Chiharu Yamada, Japan, 12.000
7. Ksenia Klimenko, Russia, 12.000
8. Kate Sayer, Australia, 11.900
7:20 pm. Chiharu Yamada FX: 2.5 to punch front, landed OOB. "Once Upon a December" music, yay. Triple full, very nice! Her leaps are also great. Front full, little hop forward. Very low double pike, somehow still gets it around but is completely OOB.
12.000 (4.9 D, 7.500 E, -0.4 ND)
7:16 pm. Tang Xijing FX: Ooh I kind of want her to eff up this podium but there's no one I want to take from the podium so UGH. Double pike, a little low in her set, but corrects well on the landing. Hop back. Triple spin, steps back out of it. She has a mix of Axelle Klinckaert's old music. 2.5 to front tuck, the twist is messier than she usually does it but she has good control on the landing. Double tuck is also a bit low but pretty much stuck, chest just down a bit. Good leaps after that. Clean double full to finish.
12.966 (4.7 D, 8.266 E)
7:13 pm. Emma Spence FX: Welcome to the Queen of Argentina. 1.5 through to double tuck, little hop back, heel goes OOB. Front tuck through to 2.5, nice! Great landing there. Switch leap to tour jeté half is also done very well. Switch ring. Double full, some ankle stuff and a little hop back, but fantastic job and she's thrilled.
12.400 (4.6 D, 7.900 E, -0.1 ND)
7:09 pm. Kate Sayer FX: Her first turn is done very well. I love this leo so much. Sailed through her 2.5. Skids a little on the double tuck, she's a little far forward. Switch to switch ring is done well. Decent double pike to finish her tumbling, then a good double wolf turn.
11.900 (4.7 D, 7.200 E)
Shoutout to whoever of you is the person on YouTube copying and pasting things I say in here onto the chat LOL *waves*
7:05 pm. Anastasiia Bachynska FX: Beautiful double arabian to start, just a tad low. Tucked full-in is excellent. Switch ring to tour jeté half. Leg flies up behind her on the double pike so she's a little short there but otherwise it was excellent in the air, and she's really selling this choreo. Hit her leaps after that. Double tuck is buckled with a hop back. Don't know if it's gold-worthy compared to Giorgia, but I hope she at least gets a medal.
13.166 (5.0 D, 8.166 E)
The look on Anastasiia's face is like THANK GOD THIS IS OVER lol.
7:00 pm. Giorgia Villa FX: Hops around the Memmel turn. Opens with a big tucked full-in, done very well, hop back. Lovely front double full, steps and shimmies out of it. Switch to switch half. Excellent triple full. Her rotation on that has improved from day to day. Didn't get it the first day, got it exactly the second, and today it was almost overrotated! Front attitude double spin. Double tuck to finish is rock solid. Perf.
13.300 (4.8 D, 8.500 E)
This is gonna be another SUUUUPER TIGHT PODIUM. Let's get ready. Love the sportsmanship between Amelie and Giorgia, with Giorgia immediately congratulating Amelie for getting beam bronze over her while Amelie immediately congratulates Giorgia for beating her on floor.
6:56 pm. Amelie Morgan FX: Tucked full-in, little hop back. Switch full, good rotation, 1.5 through to 2.5, goes crooked but good landing. Hit her leap pass well after that, switch ring to switch half maybe, I didn't see the end. Front double full to stag, excellent. Another fantastic meet from this consistent queen.
13.233 (5.0 D, 8.233 E).
Damn, she could win gold!!
6:52 pm. Ksenia Klimenko FX: 2.5 to punch front, the twist was beautiful but the punch front was short out of it and she stumbled it back. Hit the double tuck well after that. Switch full into the corner before her next pass, 1.5 to front full, switch ring through to tour jeté half down into my FAVE CHOREO SECTION EVER. Then hands down on her double full. She was like "I need to fall at least once on every event here and floor was all I had left so bam." Double wolf turn. Truly a bummer about that ending and she looks a bit sad. 😦
Aww, she's basically sobbing. Poor kid. You have two medals, now go take a nap.
12.000 (5.0 D, 7.000 E)
6:48 pm. Floor final about to start! Marching out now.
5:19 pm. Parallel Bars Standings
1. Takeru Kitazono, Japan, 14.166
2. Yin Dehang, China, 13.800
3. Sergei Naidin, Russia, 13.633
4. Nazar Chepurnyi, Ukraine, 13.466
5. Adam Tobin, Great Britain, 13.366
6. Ayan Moldagaliyev, Kazakhstan, 13.100
7. Krisztian Balazs, Hungary, 13.033
8. Nguyen Van Khanh Phong, Vietnam, 12.800
9. Diogo Soares, Brazil, 11.225
5:16 pm. Adam Tobin PB: Tall boy, had one really beautiful press up to a handstand that looked fantastic. Stuck his piked double back. He has great lines on this event.
13.366 (4.5 D, 8.866 E)
5:14 pm. Nguyen Van Khanh Phong PB: Looked good from what I saw, just a little muscled on a few things and not as fluid as some of the others, big step on his dismount as well.
12.800 (4.6 D, 8.200 E)
5:13 pm. They just took Sergei Naidin out on a stretcher…so weird! I'm not listening with sound so idk what the issue is, he looked fine coming off the podium but was just touching his hip/low back like it was giving him pain.
5:10 pm. Krisztian Balazs PB: Salto into a handstand, a tad shaky, clean on his press handstands and had a smooth kip up into an L sit. Tucked double back gets a bit low and he ends up squatting it like crazy and hopping it back to an even deeper squat but muscles it up to a standing position.
13.033 (4.8 D, 8.233 E)
5:07 pm. Yin Dehang PB: Just saw the double front half-out dismount aside from glimpses of things here and there, looked hit though, and he looks psyched af. In the replay he looks so clean, god his tuck in his dismount is perfect.
13.800 (5.3 D, 8.500 E)
5:03 pm. Damn, Naidin is still on the ground having like 50 people check out his hip. Is it spasming or contracting or something maybe?
5:02 pm. Ayan Moldagaliyev PB: I missed all of this but he's adorbs.
13.100 (4.4 D, 8.700 E)
4:58 pm. Takeru Kitazono PB: Salto right up into a handstand is really nice. Holds it for 4 hours before a one-arm swing back up to handstand, single rail back to both was done well, full-twisting double tuck dismount. He also had some good stuff like…I think Bhavsar kinda skills? Idk don't listen to me. I used to be worst at pommels but now it's definitely p-bars, I JUST DON'T GET 'EM.
14.166 (5.5 D, 8.666 E)
4:56 pm. Nazar Chepurnyi PB: I missed the beginning…but doubt anything weird happened that fast. Aggressive swing from him. And really nice press handstand work. Legs are mad wild in his double front tuck but great routine overall, he just wasn't as fluid or accurate in his positions as Naidin from my idiot perspective. Also I LOVE that he has a lady coach!!!!!!
13.466 (5.2 D, 8.266 E)
4:52 pm. Diogo Soares PB: Holds a handstand for 50 years at the start. Arched in one of his transitions but nice one-arm pirouettes. OOOF is in handstand and randomly just bends his knees, then gets back into a good position and starts to swing through what looked like a hop back up to handstand but he completely misses the bars and flies off. Tries again and gets it, then a double pike dismount. Bummer. He has lots of great qualities there.
11.225 (4.9 D, 6.325 E)
4:49 pm. Sergei Naidin PB: Very controlled and solid throughout, and fluid on his transitions between bars. A little arched in a couple of handstands but that's the worst of it. Double front half-out dismount with a step.
His hip looks like it's HELLA bothering him when he walks off and then he has his trainer pull on his leg a bit while he high fives the other guys laying awkwardly on the floor. God bless?
13.633 (5.1 D, 8.533 E)
4:47 pm. Okay, my feed is down completely for p-bars, but apparently this youtube feed is working…
Oh hai I just pasted the link and the video's right there.
4:40 pm. I'm going to be in and out for p-bars just as a warning. I'll be fully present and accountable for floor and high bar later this evening! But I'll be hella shady for p-bars.
4:36 pm. Balance Beam Standings
1. Tang Xijing, China, 14.033
2. Ksenia Klimenko, Russia, 13.533
3. Amelie Morgan, Great Britain, 13.033
4. Giorgia Villa, Italy, 12.966
5. Emma Slevin, Ireland, 11.800
6. Anastasiia Bachynska, Ukraine, 11.800
7. Ana Maria Puiu, Romania, 11.066
8. Emma Spence, Canada, 10.366
4:33 pm. Anastasiia Bachynska BB: Off on her front handspring front tuck. 😦 😦 😦 God she was SO good in quals. She was like okay, don't get used to it, this is why we don't stan juniors guys. Switch to switch half, big wobble but fights. Front aerial to split jump to split ring jump, slight check, back handspring with a wobble. Hit her leap to side aerial and then a switch ring after that. Double tuck, excellent chest position on the landing, just a slight step. GRRRRR, bummed about that. But she's a top contender on floor so hopefully she'll come back and get a gold.
Podium for beam is gonna be the one I just said was great even before Giorgia and Anastasiia went, aka Xijing, Ksenia, and Amelie!
11.800 (5.7 D, 6.100 E)
4:29 pm. Giorgia Villa BB: A podium with Xijing, Ksenia, and Amelie would be heavenly but Giorgia and Nastia are still here to eff things up! Nails her layout stepout mount and then hits her bhs loso flight series very well. PERF DOUBLE SPIN. Just a little check at the end. Oh she is balls to the wall right now. No holds barred. Split leap to side aerial, plants her feet and doesn't budge. Full L turn. So controlled. Straight jump full. Switch leap to split jump. Double pike, two steps back but nice in the air. GIIIIIIRL. Best beam she's done here, hands down. Might be one of her best beam sets ever, comparable to the Euros final maybe? Better? I already forgot everything that happened there but I don't remember it being this good.
12.966 (5.2 D, 7.766 E)
Well, the score reflects the improvements she made after quals and the all-around final but she's still not gonna be thrilled with that E. I think it all comes down to her form because that was solid as hell and she has a few soft knee issues going on that she'll need to fix if she wants to consistently hit in the 8s.
4:26 pm. I was able to get the feed on my phone. Let's see what I can do.
Emma Spence BB: I caught it from the side somi, also hit her double full, looks happy so hopefully that means a hit! But she always looks happy lol. Let's see what we get in the replay…ooooh, fell halfway through her wolf turn, kind of swung underneath the beam. Hit her flight series though. Oh well, she wasn't a medal threat here and she still has floor! Hopefully we'll get a good fight there.
10.366 (4.8 D, 5.566 E)
4:25 pm. Okay, the other channels on the YOG player on the Olympic Channel are working but the gymnastics channel is NOT. Definitely their issue. I'm gonna chill out here for a bit and put scores up and see if the feed comes back, and then I'll just try to watch routines later and update this with what happened?
4:22 pm. Ksenia Klimenko BB: Full wolf turn, steady and clean. Good leap series after that. Side aerial layout stepout, little bobble, but good cover. Super fast side somi, good landing there, just a slight check, front aerial to split ring jump. Front handspring to front tuck, a little precarious in the form but oh well. Switch ring, her back leg from this angle always looks super straight but I think it's more the angle than anything. My feed just froze so I didn't see the dismount, grrrr, the feed has been SO GOOD until now. It's basically down completely. THE NERVE.
13.533 (5.7 D, 7.833 E)
4:21 pm. Btw I'm watching this on olympicchannel.com. Apparently the YouTube stream isn't working but Olympic Channel is!
4:16 pm. Amelie Morgan BB: Little check on the back handspring mount. Bhs loso loso lands short and she looks like she's gonna come off but has a great cover and save. Lovely switch leap, into a switch half to Korbut, the switch half is MUUUUCH better today than it was in the all-around final. She must have been playing it so tentative there to make sure she'd medal in the big show, and now she's like aggressive AF. Front aerial to split jump to sissone, effortless. Side aerial. Side split jump half and full turn are both swell. Clean double full with a little bounce.
13.033 (5.5 D, 7.533 E)
4:13 pm. Tang Xijing BB: Clean layout stepout mount. Perfect layout series, shoulder angle is a bit back but she corrects well. Switch to split ring jump to Korbut, lovely. Switch ring, little bobble. Split ring leap to back handspring, full turn, front aerial to split jump to stag ring jump I'M CRYING. GET IT XIJING!!!!!!!!!!!! Double full with a step back and she's SO RELIEVED. She is so freaking unbelievable.
14.033 (5.9 D, 8.133 E)
WE'VE GOT OUR BEAM CHAMP, SIT DOWN AND RELAX KIDDO
4:10 pm. Emma Slevin BB: Candle mount, swings quickly out of it, clean full turn. Bhs loso, tiny little bobble at the end. Switch leap, lands it on one foot, wobble, then a wobble at the end of her jump series. Good work on the side aerial, then hit a couple of transverse jumps, her split half is pretty good. Back tuck 1.5 is hit, breathes a sigh of relief at the end. I think that's it for her here in Buenos Aires, what a REMARKABLE week with NO FALLS in 11 routines. So so so happy for Ireland.
11.800 (4.6 D, 7.200 E)
4:09 pm. I couldn't watch Puiu's routine but she got a low 11 so assuming she fell…
11.066 (4.5 D, 6.566 E)
4:00 pm. I might be an and out today but will go back and add what I missed, if I miss anything, later on.
I think acro is going to be mixed in between MAG and WAG events so I'll just take a lil break and won't live blog that part. That worked yesterday with trampoline.
Btw the article photo is Tang Xijing, queen of the layout. If she doesn't hit beam I will throw my computer at my own face.