Shannon Evans of BYU
The top two SEC programs – Florida (No. 3) and LSU (No. 5) – meet in Baton Rouge tonight for the must-see meet of the week (though I think the Lexie Priessman and Amelia Hundley "rival teams but BFFs" fluff is going to be even more of a must-see event for me #ShippingSince2010).
LSU got off to a bit of a slower start than expected, and they're still looking to break that 197 mark that only four teams so far have reached this year, but it's LSU at home with a big rival competitor. They'll make it happen.
The Gators, meanwhile, will hope to build on a solid opening. While watching them vault last week, I was like oof, this is going to be a rough season if this is any indication. Then they got to bars and were like "just kidding." They looked incredible for the rest of the evening, including a brilliant debut from Trinity Thomas, so if they can keep that going tonight, this is going to be a close one.
Oklahoma (No. 1) competes at a low-key tri-meet on Saturday afternoon against North Carolina (No. 34) and Ball State (No. 46), while Utah (No. 4) will see some Pac 12 action at Oregon State (No. 21). Oklahoma is like, hey, is it April yet, and Utah also looks super strong, but I'm hoping we see the Beavers make some progress to improve their ranking this weekend.
After a whirlwind week for viral legend Katelyn Ohashi, it's probably nice that UCLA (No. 2) gets the weekend off before returning early in week four. Otherwise, we look forward to seeing how Georgia (No. 10) and Alabama (No. 17) can turn things around in tonight's meet-up, and I'm very excited to see if Rocky Mountain range faves BYU (No. 6). Boise State (No. 7), and Denver (No. 8) can keep the magic alive to stay in the top ten. The first two are hitting the road this week, which is always tough, but the Pioneers will return home and could definitely see a rise in the standings after tonight.
Michigan (No. 10) will also return home tonight after two road meets that took them to Cancun and Tuscaloosa (same thing amirite) and I have a feeling it's going to be a hell of a welcome party for freshman Natalie Wojcik, who will probably get a 10 on vault if she sticks it. Even if she doesn't stick it, I hope they give her a backdated 10 for what she did in week one because, as Tyra Banks says…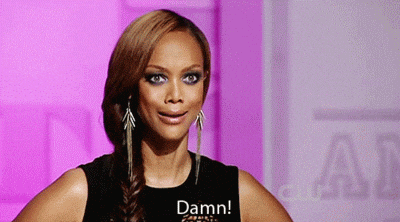 The full schedule for week three is below. All times listed are ET, the first team listed is the host team, and we'll update any links as they are updated on each program's schedule. Once the meet is finished, we'll add the results. Enjoy!
FRIDAY JANUARY 18
6:00 pm
Kentucky 195.275, Arkansas 193.875
Results
7:00 pm
Lindenwood 194.550, Winona State 183.950
Results
Michigan 195.975, Michigan State 194.050
Results
New Hampshire 194.925, Pittsburgh 193.725, Bridgeport 193.575, Temple 191.850
Results
Northern Illinois 194.675, Eastern Michigan 194.300, Western Michigan 192.000
Results
Stout 187.575, Whitewater 186.000
Results
NC State 184.600, William & Mary 192.150, Towson 191.975, Cornell 191.725
Results
7:30 pm
Alabama 196.900, Georgia 196.875
Results
Iowa State 194.150, Illinois State 191.275
Results
La Crosse 186.700, Hamline 180.850
Results
San Jose State 193.225, S.E. Missouri 189.800
Results
9:00 pm
Washington 196.525, Arizona 195.650
Results
Florida 197.500, LSU 197.425
Results
Boise State 195.400, Southern Utah 194.325
Results
BYU 194.575, Utah State 193.875
Results
10:00 pm
UC Davis 195.225, Seattle Pacific 192.625
Results
SATURDAY JANUARY 19
1:00 pm
Ithaca vs Brockport, Springfield
postponed
Nebraska 194.850, Rutgers 194.325
Results
Yale 193.775, Pennsylvania 192.350
Results
2:00 pm
Auburn 195.825, Missouri 194.975
Results
Oklahoma 197.000, North Carolina 195.150, Ball State 193.600
Results
3:00 pm
Illinois 195.075, Maryland 194.950
Results
3:30 pm
Ohio State 196.075, Penn State 194.850
Results
4:00 pm
UIC 195.200, Bowling Green 194.825
Results
5:00 pm
Minnesota 195.475, Iowa 194.350
Results
Utah 197.150, Oregon State 195.500
Results
Oshkosh 183.825, Gustavus 179.450
Results
6:00 pm
Centenary 188.100, Eau Claire 185.725
Results
8:00 pm
West Virginia 194.750, Air Force 193.675, Cortland 180.475
Results
Denver 196.175, Central Michigan 193.250, Texas Woman's 190.200, Sacramento State 190.150
Results
SUNDAY JANUARY 20
1:00 pm
Brown vs Southern Conn.
postponed
Kent State vs. George Washington
postponed
West Chester 188.925, Ursinus 183.125
Results