Welcome to the live blog for podium training at the U.S. Classic! We'll update every few minutes, so refresh your browser as you see fit, with the most recent updates appearing at the top. Enjoy!
12:45 pm. I love how you can always tell the newbies in interviews…poor Jade was SO SHY!!! It was adorable. Her coach said she's still getting used to it. Had a great chat with Ashton, though. She really wants to come back on vault and floor, but it's all about how her body holds up, and bars/beam are the priority for her.
Morgan isn't doing bars because of an elbow injury that she's trying to not aggravate, but otherwise she's feeling good about everything.
12:26 pm. Doing interviews now! Back in a bit with some insights!
12:24 pm. Wrapping things up here. Elena just had a weird bars blunder where she whacked her feet somehow mid-stalder and then kept going around with her feet stuck to the bar, haha. She's gonna give it one more shot I think, everyone else is done.
Here she goes! Toe full and bends her legs before coming off. Back on again this time with Jordan cheering her on, but she looks frustrated with everything. Caught her release at least!
12:22 pm. Looks like Luisa Blanco is practicing roundoff layout fulls, on floor but for beam. Cool!
12:21 pm. Now Chiles is doing her DTYs with a hop halfway around after landing, so my guess is that she's probably aiming for the Amanar, if not for tomorrow, then definitely by nationals.
12:18 pm. Elena doing a stalder to van Leeuwen, caught this time but a little sketchy. Low double layout with her legs apart. Ashton looking decent on beam, great extension on her leaps. Another big DTY from Jordan. Riley hasn't vaulted yet aside from timers, but she looks like she's prepping to go now. Nope, just another timer. I guess that's good based on how her training has gone otherwise today.
12:13 pm. Just got a full routine from Perea, everything but the dismount…she's gorgeous, nbd.
Still only timers from Riley on vault.
Elena back up on bars, looks good so far…but misses the van Leeuwen again. Shania Adams off on her wolf turn.
The Hopes babies just came in and I squealed! YAS.
12:10 pm. Arenas off on a transition. Still mostly timers on vault. Solid triple series from Abby Paulson. Huge DTY from Jordan Chiles, who runs backwards out of it and lands it on her back on the big mat (intentionally, prob to save her feet). A full from Morgan for now.
DTY from Maile, just a little formy in her twist. Laney did a bhs tuck full I think, and then a barani, but she came off on that. THEN A SCORPION TURNNNN. YES. She's pretty messy here but with huge fun skills. Another barani, this one piked! That's super fun. I don't mind messy skills from tricksters because they at least spice things up.
12:00 pm. Rotation four! Morgan is so clean on her vault timers. She's a perfect human.
Gabby Perea time! Maloney to stalder just to get started. Back up for van Leeuwen. Looking clean. Now she's doing an in bar full to Maloney to Ricna to pak, nice. Van Leeuwen, nice clean handstand after that.
Marissa Oakley going for a side aerial loso loso I think, but off on the last skill.
11:57 am. Marissa still has her Fabrichnova!!!! YAAAAAAY!!!
11:54 am. Obsessed with Morgan's floor choreo as always. Her tumbling has all looked great but her choreo is MURDERING MEEEEE, it's so good. And she's so good at it.
Here comes Laney again on bars…sat a double tuck dismount, just not getting the rotation quickly enough.
Shania on bars…toe full to van Leeuwen, nice clean full-in. One last look at Abby…great handstand before her toe full to Chow to pak to stalder, very nice.
11:52 am. Another clean, solid bars set from Abby Paulson. She's looked the best out of anyone so far today…just tight and clean and together whereas everyone else seems a little messy or mentally struggling. Watch her win this. I will be here for that.
11:48 am. Just shared a giggle with Leah Clapper's coach as she said "Hey Leah, do you have your grips on the correct hands?" BLESS.
Just a dance through for Riley's floor. Same routine we saw earlier this season.
Ashton actually struggling a little on bars which is…weird to see, I don't think I ever see her make mistakes.
Ooooh Jordan has a nice sassy floor! This is gonna be great. Really fun.
Marissa is getting through a good bars until she goes over on a pirouette. She's struggling with hitting toe-ons today, like her feet keep going through the bar causing her to come off. Ana Padurariu of Canada has that problem and so she started doing inbars instead of toe-ons because she was basically always accidentally doing inbars. #casual
11:46 am. Nice pak to Chow to Gienger from Marissa! And I'm still obsessed with Laney's German giants, which she does right into a pak…but the pak ends up being super tucked and she always misses it. Oh well, she's not here for bars, and we all know that.
11:44 am. Elena just crashed a DTY…looked OVERrotated, at least! Just kinda second guessed the landing.
Deanne on beam…off on a jump. Gets back on for a double pike, not bad. Just a little low. Nice piked full-in from Olivia on floor.
11:40 am. Ragan off on her beam series. Just a double pike dismount. Okay DTYs from Elena Arenas…just a little formy in the air.
Marissa on bars! Stalder full to toe on, missed her toe on and came off. Does it again, Maloney to pak.
Riley just sat a couple of floor passes. 😦
11:38 am. Obsesssssssed with Laney Madsen's German giants!!! Missed her pak, though. But that was so cool. LOVE.
Piked full-in for Maile on floor, DOS SANTOS FROM CHILES YAAAAAAS, looked SO GOOD.
11:34 am. Shania Adams on bars, first time I'm really seeing her today! She's kind of like a secret sneaky podium threat here, especially with not many doing AA. Morgan just stuck a double pike cold, nice and high.
Ashton on bars, beautiful handstand before her toe full. Big double layout from Olivia Dunne. Huge double arabian from Jordan Chiles, so big she runs right off the floor haha.
11:31 am. Next rotation! Everest on bars, so YAAAAY! Texas Dreams on beam.
Marissa Oakley, our first view of her since 2014! Good toe on and stalder work to start. Morgan Hurd busts out a double pike to start off her floor warmup. Nearly stuck double tuck from Olivia Dunne. And a nice double tuck from Jordan Chiles.
11:22 am. Riley back up for a few things…missed her feet on her dismount again but thankfully only did a tuck out of it because otherwise that would've been terrifying. I literally clutch my chest like an old woman and it makes me so sad for her. I guess she hasn't been able to train as much as she'd like since Jesolo because of injuries but yeah, if they pulled her from beam this weekend, I wouldn't be mad. There's mistakes, and there's scary. This is low key scary.
11:18 am. Getting ready to move rotations again. But first Maile has to hit another great layout. And then fall on a switch ring. Whoops.
Riley only did one wolf turn! Front aerial into a jump series looked really strong. Bhs loso loso, missed her foot on the first loso and crashed the second loso on her face on the beam before falling. I have screamed out of fear for this girl about 87,000 times today.
11:14 am. Adeline Kenlin off on her side aerial loso on beam, hit the rest though, from what I saw. PERFECT layout series from Maile. Another good full-twisting DLO from Deanne.
I wish I could see beam better! Floor has seen lots of spills in this rotation. But there are lots of spills everywhere today so nbd. It's the first classics of the quad, GET USED TO IT. Nice big double layout from Trinity off bars.
11:11 am. Chiles looking good on beam but just fell on something I couldn't see. Got back on and hit the rest.
Soza doing a toe half to Ezhova, YAY! Glad she kept that. Toe on to inbar shoot to high, full-twisting DLO with a step. Good girl!
Morgan on beam with a nice side aerial to switch leap to split leap. Front aerial with a little wobble. Punch front with a little hop. Her weakest skill so far in this has been her full turn of all things. Switch ring, oh, then sat the double pike.
11:07 am. Alyona on bars, inbar full to Komova II to Tkachev, Ricna to pak, very clean pak but her feet always make me laugh. Chow half, stalder half, double layout low but stuck. First full routine I think from anyone without anything ridiculous happening.
Sienna Robinson just walked in and I straight up squealed at her, she's ADORBS.
Ragan off on a release on bars after otherwise looking solid. Big height on her releases. SJS doing an FTY. Abi WAlker just Shayla'ed her bars mount, LOL, she's SOOOO TINY, she's like ugh I CAN'T REACH THE HIGH BAAAAR! OMG I love her.
11:06 am. Good full-in from Emily Gaskins on floor. Nice Endo half from Emma Malabuyo, continues with Chow to pak, Chow half, stalder full right on the bar, right into a Tkachev betwen the bars! Full-in. Not bad!
11:00 am. Alyona working inbars as we start the second rotation, which is crazy with Texas Dreamers. Riley so far is looking better on beam than she has on bars OH CRAP until just now where she goes for a dismount, misses her feet COMPLETELY, and goes flying off. Good thing that was just a timer. It was super scary.
Trinity is doing bars…and Morgan's up now on beam. Good Maloney to clear hip for Trinity. Morgan looks clean so far. HUGE Tkachev from Alyona, then a Ricna. A few falls on floor. Big layout series from Maile on beam.
Margzetta Frazier apparently just got to Chicago an hour ago! I wonder if she had flight troubles? My flight this morning got canceled and I had to fly out last night instead.
10:57 am. On her last attempt up, Riley started out okay but then fell on her van Leeuwen. Lord, this was not a good day for her even a little. She definitely looks upset. 😦
About to switch to rotation two!
10:52 am. Alyona looks better with her DTY than she has in the past. Another tsuk layout from Jade. Now she's done. Only timers today. UGH. Riley has fallen on about 80% of her bars releases today. 😦 Poor kid, she's chalking again now and is sighing, looks super frustrated.  She'll get one more turn I think.
10:47 am. Jordan looking super aggressive on bars once gain, no problems really at all. Luisa Blanco on floor now with a nice routine. Deanne up for another DTY…and crashed again. Just slightly short on all of them and doing them to her knees. 😦 Sweet baby angel. I just want her to get through a nice clean meet. Solid DTY from Emma Malabuyo.
Riley back up on bars…stalder full to Maloney to Tkachev with the WEIRDEST hip rotation EVER. Falls.
I haven't really seen any of Jade's big vaults yet so either I'm missing them every single time or she's not going all out today. I've seen a billion timers. Maile got her double front this time around on bars.
10:42 am. Lots of beam dismount falls from this group, and Adeline's struggling on bars. So is Riley a little, mostly with form…her pak had split legs and her legs going into her dismount were wonky.
Jade is still working up to her tsuk double…just doing tsuk layouts for now.
Beautiful pak from Maile, Maloney to Ricna, piked Jaeger, oh, then sat her double front. Sunisa connects things her second time through. Deanne Soza just crashed a DTY about 1.75 twists through. Oof. Lots of little messes everywhere but hopefully everyone will look better doing full routines rather than just bits and pieces. It's harder to build momentum this way.
10:40 am. Sunisa just caught the Nabieva, but didn't connect it going forward. Pak with split legs, kip cast into Maloney to Gienger, nice. Didn't get the momentum up for a stalder after that though.
10:38 am. We haven't seen Margzetta Frazier at all. 😦
Adeline looks a little messy on bars…just deep squatted her double front so hard, but then stood out of it and basically stuck it hahaha. Riley off on a release. Went for the Downie again and caught it but with fully bent knees in the pike.
10:36 am. Layout series on beam but I can't see who it's from…she has dark hair and a black/green leo. Frida maybe? Aggressive bars work from Jordan…I love power bars. Gienger and a full-in done well.
Trinity Thomas isn't vaulting, so that's two who probably aren't doing AA.
10:31 am. Riley on bars starts with some basic handstand work to get into it. Sydney Johnson-Scharpf has great music…same routine as Reykjavik. Someone just casually busted out a triple on floor, but it was very messy-legged…Laney Madsen.
Jenny Rowland is here sitting with Cheryl Hamilton, Chellsie Memmel, and Anna Li. #JUDGES
Morgan is in the bars rotation but isn't warming it up…going over beam skills instead.
10:30 am. Here we go! Texas Dreams on vault, Most of the juniors on bars with Jordan and Morgan, and the other two groups are kind of mixed.
10:25 am. Two of the babiest babies here, Love Birt and Sienna Robinson! They're both 11.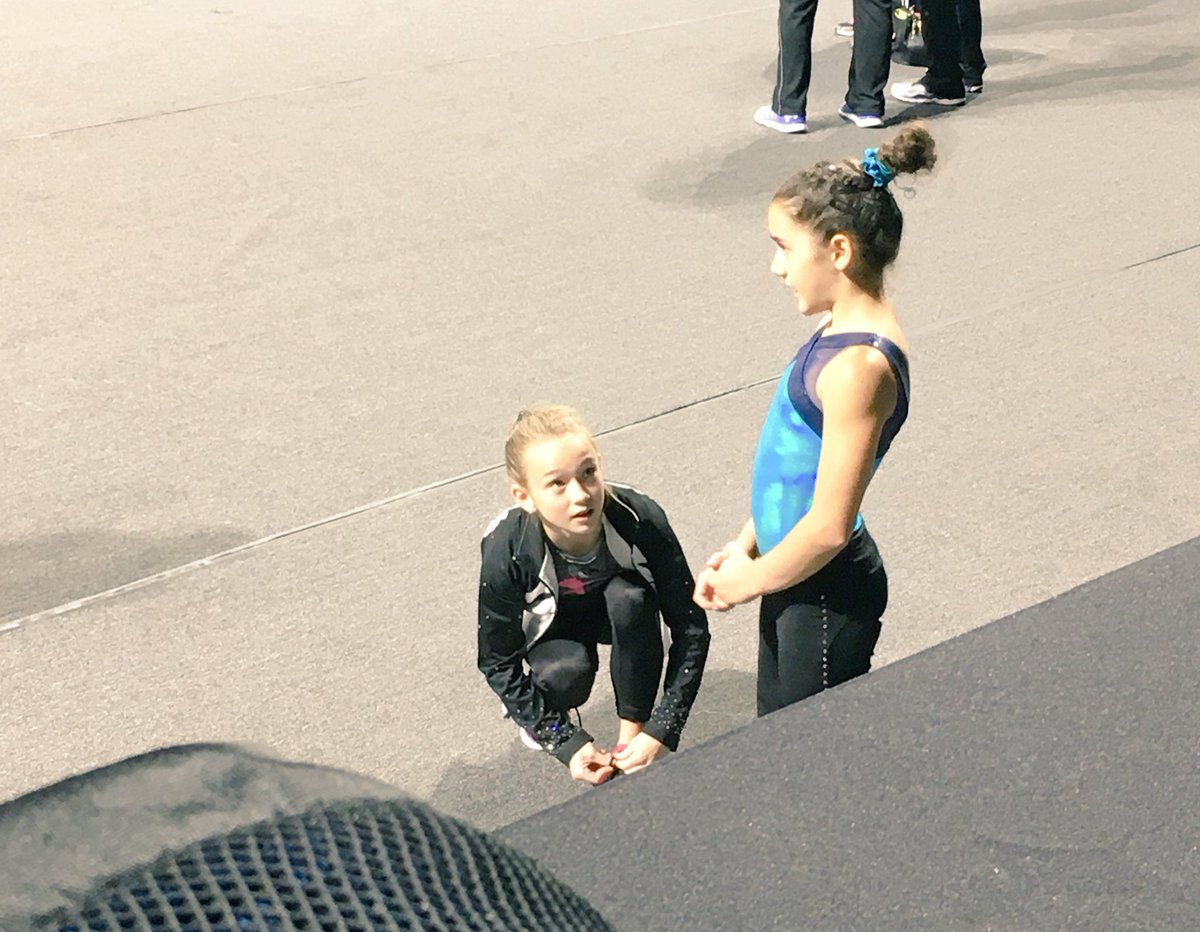 10:23 am. Hi, general stretch takes 45 hours, so soon, my babies. Soon. Check out my Insta story (@laurenhopkins96) for a shot of the Texas Dreams leos in action, in the meantime!
10:09 am. General stretch still happening for the seniors! Can't wait to see how everyone looks.
9:55 am. Shilese Jones is really working it on bars…very aggressive swing and clean form.
That'll about do it for the juniors. But the top juniors will all be in the senior session, so look for our updates there coming shortly!
9:48 am. Seniors are coming in! Juniors still doing well, nothing too crazy aside from the occasional crashed FTY. We're loving Gabbie Gallentine's floor music. Great DTY from Jay Jay Marshall. Some inbar work from Shilese Jones. Love Birt is the tiniest human EVERRRRR! I can't with the 11-year-olds. Great stalder work from her but missed her toe shoot because she is a tiny human.
9:35 am. Kind of a lull there as we changed rotations…slash took selfies. It's okay, we'll get more exciting for the seniors. This group is hard to follow in general because there are 3000 juniors and it's hard to get used to new faces. Give us a few seconds as this rotation picks up speed.
9:29 am. The Hill's girls are looking good on vault…DTY from Anya Pilgrim just now had a super solid landing. We're only really getting basics on floor, dance throughs with the occasional tumbling run.
Texas Dreams is in an AWESOME rainbow leo. Neon gym name on the front, party rainbow in the back. LOVE.
9:23 am. Vika Smirnov, one of my fave babies, just had the best little balletic routine in the world, I died and went to heaven.
Joe and I arrived a little bit ago and are getting all set up here, so we'll bring you updates as they happen!
Article by Lauren Hopkins
This post was made possible thanks to our amazing patrons who help us fund things like travel and video production as we work to grow the site. This month's patrons: April, Dodi Blumstein, Wendy Bruce, Kelly Byrd, Jillian Cohen, Brittany Cook, Kristyn Cozier, Holly Glymour, Hydrick Harden, Lauren Haslett, Inaya, Lauren Jade, Alexis Johnston, Katrina, Sarah Keegan, Ishita Kent, Jenny Kreiss, Maria Layton, Rae Lemke Sprung, Leigh Linden, Annabelle McCombe, Bridget McNulty, Cindy McWilliams, M. Melcher, Alison Melko, Emily Minehart, Eyleen Mund, Melanie Oechsner, Jessica Olaiya, Cordelia Price, Abbey Richards, Christine Robins, Kaitlyn Schaefer, Lisa Schmidt, Brian Schwegman, Stephanie, Lucia Tang, Rachel Walsh, Laura Williams, and Jenny Zaidi. THANK YOU!
Want to help out and qualify for super fun rewards for as little as $1/month? Check us out on Patreon!
Follow The Gymternet on Twitter and like us on Facebook. 🙂