At the Commonwealth Games on the Gold Coast last month, 17-year-old Latalia Bevan became an instant fan favorite with her gorgeous Swan Lake routine where she showcased clean tumbling, gorgeous choreography, a unique style, and an effortless ability to perform in a way that is often so absent from floor.
Her silver medal win and sixth place all-around finish made the Commonwealth Games a breakthrough performance for Bevan on the international stage, but her career goes way back, and she's been one to watch on the Welsh team since her espoir debut in 2013. At 12, Bevan won the silver all-around medal at nationals and also had a top-three finish on every event, winning the beam title with a routine that would've challenged the senior competitors in the country.
Bevan went on to win a number of Welsh titles, including the all-around titles as an espoir in 2014 and then as a senior this year, where her performance also included gold medals on beam and floor. As a junior, Bevan also became a standout on the British scene, usually so heavily dominated by English gymnasts, but Bevan managed to break through as one of the top British juniors with her sixth place all-around finish in 2015, and last year, she won the silver medal on beam at the British Championships in a deep field.
Internationally, Bevan also got an early start, winning the Northern Europeans beam gold in a mixed senior-junior field when she was just 13, and then coming back the following year to defend her beam title in addition to adding wins in the all-around and on floor. She also became the School Games all-around champion in 2016, and she won the silver medal on bars at the Junior Commonwealth Championships in Namibia a month later.
We've loved following along with Bevan's incredible career, and were thrilled to see her named to the British squad for 2018 just a couple of days ago, meaning she'll be eligible to contend for the Euros and worlds teams later this year. Check out our interview with her below to learn a bit more about everyone's new favorite floor queen!
First of all, congrats on such a fantastic performance at the Commonwealth Games! How did it feel the moment you learned you were going to take home the silver medal on floor?
When I found out I had a silver medal on floor I was completely overwhelmed with happiness because I was so relieved to have known my hard work had paid off leading up to the Games.
What were your favorite memories from the Gold Coast both on the competition floor and away from the arena?
My favourite memory was definitely winning the silver medal on floor, but it was also competing with my team on the first day and being able to take in the amazing experience with my best friends. My favorite memory outside the arena was probably just being in the athlete's village, it was so amazing! They brought in different entertainment every day, like husky puppies, koalas, dancers and artists…it was truly incredible.
Do you have any funny stories from the Games?
One of the funniest stories of the Games was when me and my teammate Emily were in the game room and someone threw a huge beanbag at her face and then she just fell straight into this pile of newspapers. Later that night I sat with Emily and looked at her shoulder to see the headline of the newspaper had been printed on her arm (she fell that hard). It was one of those 'you had to be there' type moments.
Your floor became everyone's obsession with a fab performance and so much original, cool choreography. Where did you get the inspiration for your story and style?
From my floor routine I got the inspiration to perform it like that just because I love to dance and have such a passion for it. I have a big interest in ballet and this floor was really fun to learn and I never get bored doing it.
We also love the fouettés in your routine and your leaps are gorgeous! Do you have a background in ballet? Do you have any other kinds of turns or dance elements you'd like to bring to floor?
I haven't really got a background in ballet, my mum took me when I was three but I stopped because I wanted to move onto pointe shoes straight away and kept doing cartwheels on the dance floor. I haven't really thought about what other spins to do in my floor routine but I have been experimenting on a few different ones.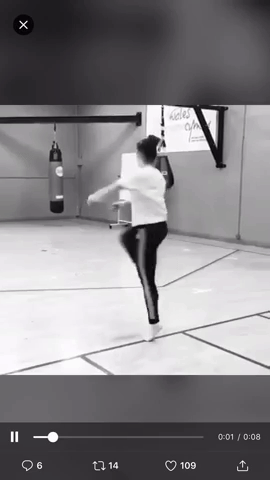 Now going back a bit, how did you get started in gymnastics?
I started when I was six. My mum put me into it because she did it and then she also coached me for a few years, it's kind of run in the family.
Is there anyone you looked up to most in the sport growing up?
Growing up, Viktoria Komova was my inspiration because she was so elegant and had beautiful lines.
We've been watching you for years on the international scene. What were some of your favorite early competition memories as a youth or junior?
The Junior Commonwealth Games was one of my favourites, and also competing in the Olympic Hopes Cup for GB.
Most of your international experience is with the Welsh team, but last year you got to attend a world cup as a member of Team GB and we also just found out this week that you and several of your teammates have been selected for the British squad for 2018. What are your biggest goals going forward this year and in the future as a member of the British team?
My biggest goals this year is just upgrading difficulty in my routines, and having a go at European trials and world trials to see where it takes me.
Your U.S. fans would LOVE to see you in NCAA gymnastics. Is that something you've ever looked into?
Going into American college is definitely something I have thought about. I haven't made a decision yet because I'm still going through school and exams to see where I end up with that.
What's one piece of advice you'd give a younger version of yourself having a rough day?
A piece of advice I would give myself on a bad day would be telling myself that I'm stronger than I think and just to believe in myself.
Finally, we have to ask about your bars fall at British Championships this year, which we've watched about one million times and is now one of our favorite fails. Mainly…what exactly happened? What was your immediate reaction? Were you okay? How long did it take before you could laugh at it?
My fall at the British…I have no words.😂 It all happened so fast. My hand just slipped off the bar and I whacked my head on my shoulder. I was so upset and confused but after the comp I watched it back and thought it was quite funny. There was nothing I could do about it except see the funny side.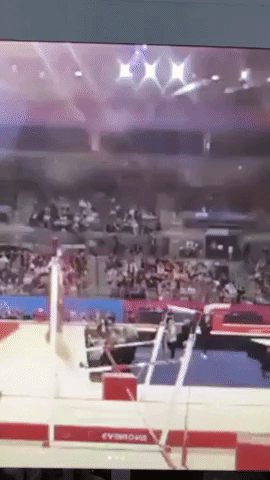 Thanks so much for chatting with us, Latalia! We can't wait to see what's next!
Article by Lauren Hopkins
This post was made possible thanks to our amazing patrons who help us fund things like travel and video production as we work to grow the site. This month's patrons: April, Daniel Bertolina, Emily Bischoff, Dodi Blumstein, Wendy Bruce, Katie Burrows, Kelly Byrd, Melissa Carwin, Jillian Cohen, Brittany Cook, Kat Cornetta, Kristyn Cozier, Anita Gjerde Davidsen, Holly Glymour, Hydrick Harden, Lauren Haslett, Inaya, Lauren Jade, Alexis Johnston, Katrina, Sarah Keegan, Ishita Kent, Alyssa King, Jenny Kreiss, Maria Layton, Rae Lemke Sprung, Leigh Linden, Annabelle McCombe, Stephanie McNemar, Bridget McNulty, Cindy McWilliams, M. Melcher, Alison Melko, Emily Minehart, Eyleen Mund, Rachel Myers, Melanie Oechsner, Jessica Olaiya, David F. Pendrys, Lauren Pickens, Cordelia Price, Abbey Richards, Christine Robins, Kaitlyn Schaefer, Lisa Schmidt, Brian Schwegman, Sam Smart, Stephanie, Karen Steward, Lucia Tang, Tipse_ee, Rachel Walsh, Laura Williams, and Jenny Zaidi. THANK YOU!
Want to help out and qualify for super fun rewards for as little as $1/month? Check us out on Patreon!
Follow The Gymternet on Twitter and like us on Facebook. 🙂