When Sydney Saturnino, a first-year senior from Italy, came up with the #GymnasticsFailChallenge earlier this week, she was merely looking for a way to share some hilarious videos with her teammates and international friends.
Saturnino uploaded some photos of her bars and beam falls, one from a competition and one from training, asking her followers what they thought of the challenge while nominating several Italians as well as Lorette Charpy of France, Ana Padurariu of Canada, and Carmen Ghiciuc of Romania to post videos of their own. From there, the challenge blew up, going beyond the women's elite world and spreading into MAG, J.O., rec gym, cheer, and even into our very own gym fan community.
Over a thousand users on Instagram have uploaded fails of their own, with some hilarious and terrifying results, bringing some much-needed laughter into a community that has been so clouded by sadness and heartbreak in the wake of Larry Nassar's sentencing.
Not only are we crying laughing at the most ridiculous falls, but it's also incredibly beautiful to see the international community come together in this way. Gymnastics is stereotypically serious and on the women's side, it has a history of being super competitive, full of international rivalries and pettiness. But in the age of social media, the women are throwing that out the window and becoming best pals, using Instagram and Twitter to stay in touch between meets.
Instead of trading smug comments or diva glares, the girls today are trading team gear, cheering each other on at major international meets, and now sharing some of their most frustrating — but most hilarious — moments in the sports. It's been so much fun to see everyone tagging friends from all over the globe, watching them tighten their bond despite any drama that exists on the floor. What they all have in common, and what matters more than any rivalry, is that they've all had to fight through the bad days, the skills that never seem to work out, and the endless fails to become some of the best athletes in the world. They fail a thousand times in practice and in competitions, but no matter how defeated they are, they get back up and fight for another chance.
We're SO obsessed with this trend, we went through literally hundreds of videos to find our favorites, which you can check out below. For the purposes of this post, we stuck with women's elite, but be sure to check out the tag for videos from across every discipline and level of the sport. What are your faves? Be sure to let us know in the comments!
In no particular order…
1. NAOMI VISSER, NETHERLANDS
We are DYING at the last two videos (the leap on floor and the trampoline.)
2. MARTINA MAGGIO, ITALY
I've never seen a nicer inbar on beam.
3. HELENE SCHÄFER, GERMANY
The beam death drop. New skill?
4. EMMA MALABUYO, UNITED STATES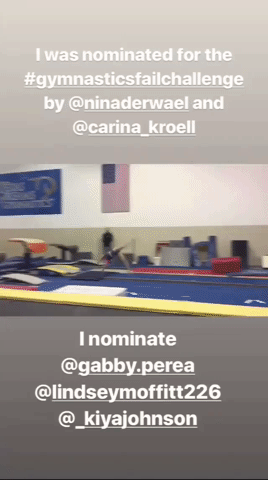 When your fail has a body count.
5. ELISA HÄMMERLE, AUSTRIA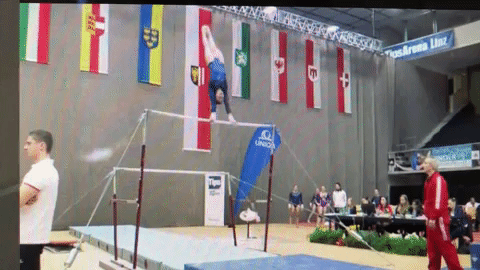 Just…how?
6. LATALIA BEVAN, GREAT BRITAIN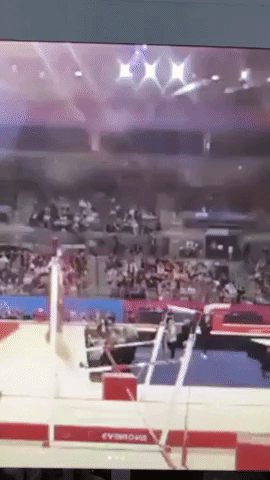 Again…HOW.
7. KRISTYNA PALESOVA, CZECH REPUBLIC
Onodis are always SO elegant.
8. EMMA SPENCE, CANADA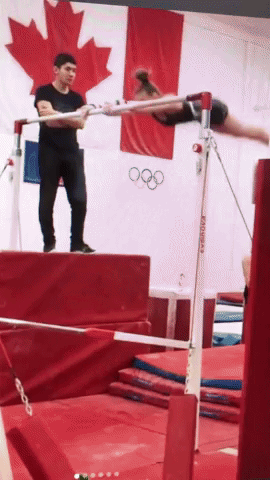 All of Emma's fails are "such a mood" according to Morgan Hurd.
9. NINA DERWAEL, BELGIUM
https://www.instagram.com/p/BinANUJgRCw/?taken-by=ninaderwael
Even the best fall down sometimes.
10. MARTINA RIZZELLI, ITALY
When you ping off a full 20 minutes earlier than you meant.
11. ANASTASIA DUBOVA, LATVIA
https://www.instagram.com/p/Bim-7j1B9vb/?taken-by=nastya.dubova
This whole thing was a struggle but she was SO CLOSE.
12. DANUSIA FRANCIS, JAMAICA
Only Nush could make both of these look great.
13. PAULINE TRATZ, GERMANY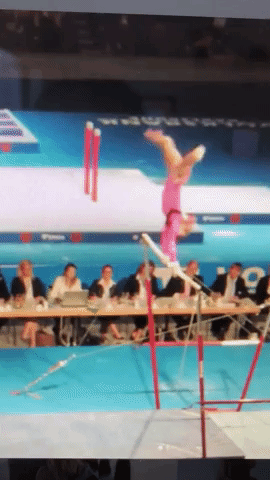 This is why Pulla sticks to vault and floor at UCLA.
14. MARGRET LEA KRISTINSDOTTIR, ICELAND
A whole series of gems (and sometimes you need to take your coach down too).
15. JULIA RUMBUTIS, GEORGIA
Julia is basically a cartoon.
16. SANNA VEERMAN, NETHERLANDS
The second video is absolutely amazing.
17. ELISKA FIRTOVA, CZECH REPUBLIC
https://www.instagram.com/p/BinIah2nMDi/?taken-by=eliska_firtova
That third video though.
18. SARA BERARDINELLI, ITALY
https://www.instagram.com/p/BifLX23BAsl/?taken-by=sa_ra_2001
That first video actually went viral once upon a time! And it's still epic.
19. JAFREE SCOTT, UNITED STATES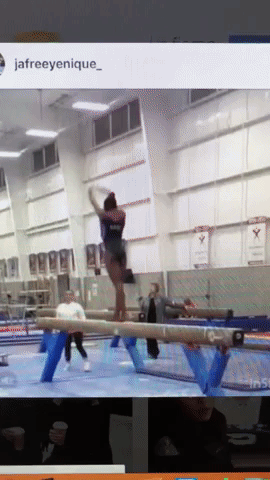 Kelli Hill in the background like "ho hum, a regular day"
20. LEAH GRIESSER, GERMANY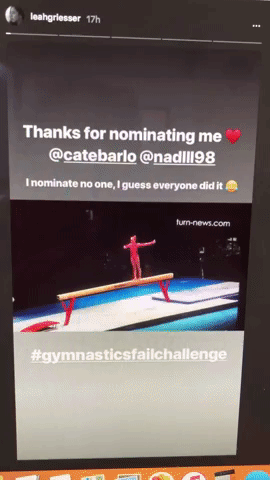 How to do a double spin on beam: just cross your fingers and hope for the best.
BONUS. SEDA TUTKHALYAN, RUSSIA
We KNEW Seda would deliver. And boy does she. Repeatedly.
Article by Lauren Hopkins
This post was made possible thanks to our amazing patrons who help us fund things like travel and video production as we work to grow the site. This month's patrons: April, Daniel Bertolina, Emily Bischoff, Dodi Blumstein, Wendy Bruce, Katie Burrows, Kelly Byrd, Melissa Carwin, Jillian Cohen, Brittany Cook, Kat Cornetta, Kristyn Cozier, Anita Gjerde Davidsen, Holly Glymour, Hydrick Harden, Lauren Haslett, Inaya, Lauren Jade, Alexis Johnston, Katrina, Sarah Keegan, Ishita Kent, Alyssa King, Jenny Kreiss, Maria Layton, Rae Lemke Sprung, Leigh Linden, Annabelle McCombe, Stephanie McNemar, Bridget McNulty, Cindy McWilliams, M. Melcher, Alison Melko, Emily Minehart, Eyleen Mund, Rachel Myers, Melanie Oechsner, Jessica Olaiya, David F. Pendrys, Lauren Pickens, Cordelia Price, Abbey Richards, Christine Robins, Kaitlyn Schaefer, Lisa Schmidt, Brian Schwegman, Sam Smart, Stephanie, Karen Steward, Lucia Tang, Tipse_ee, Rachel Walsh, Laura Williams, and Jenny Zaidi. THANK YOU!
Want to help out and qualify for super fun rewards for as little as $1/month? Check us out on Patreon!